A Village Near a Dungeon with a Necromancy Problem
This is a pdf of a Word document, a rough draft, the 0.1 version of what will be a finished, laid out, edited, playtested and polished adventure for Trophy Gold. When it is done the adventure will be priced somewhere around $5. Paying now means you will get access to each draft and the finished pdf.
If you aren't interested in paying a buck for coming along for the ride, the adventure is in a blog post here.
This adventure was inspired by a tweet: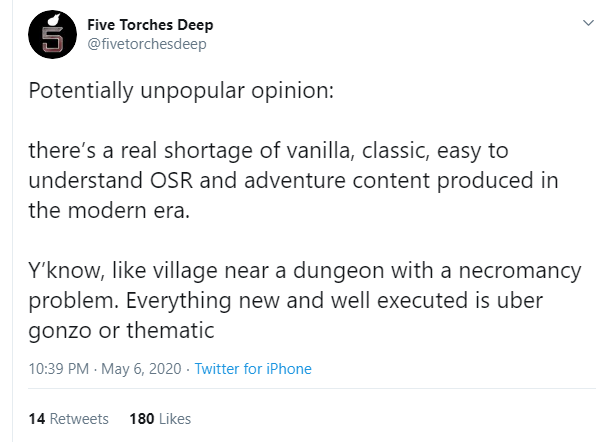 "I think you achieved what you set out to do because it was a good mix of the grimness and risk of Trophy Gold and the sort of light hearted swashbuckling adventure that the original tweeter was bemoaning was lost under a torrent of really Gonzo high-concept material.

The ingredients you put into the sets allowed the treasure-hunters to think of lots of clever ways to avoid combat."
- James L. Smith, playtester
"I ran "Village near a dungeon with a necromancy problem" last night for Trophy Gold. Players all enjoyed it immensely (despite no one surviving the tomb). 2 of the players started playing with AD&D so really enjoyed the references and started riffing off them. Many thanks."

- Richard Fryer, playtester
NOTE: This project's profits are not going to charity. Charity products will be clearly labelled in the description.
Purchase
In order to download this project you must purchase it at or above the minimum price of $1 USD. You will get access to the following files:
Village near a dungeon with a necromancy problem 0.1.pdf
631 kB
Exclusive content
Support this project at or above a special price point to receive something exclusive.
Community Copies
For those who have playtested the adventure or are experiencing poverty and/or marginalization, please grab a copy of the PDF for free.